Hey friends, thanks for stopping by. I'm not home at the moment, but if you leave a comment at the bottom, I'll be sure to get back to you as soon as I return.
Where am I?
Why, thanks for asking.
My good
bloggy
friend
Debbie
invited me to guest blog over at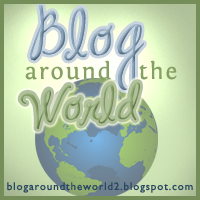 So head on over and
check out
how I've decided to try out a new method of parenting and am now letting my children run
amuck
.
Now I'm taking the weekend off.
You see my sister
Kris
came to visit me, so we are going to spend the weekend doing whatever it is that we do when we're together.
Okay, not really.
Normally when she comes to visit I put her to work painting or something like that, but this time she told me that she was not bringing any work clothes because she was riding the train and she wanted to pack light.
Whatever.
So, instead of doing anything productive we are going to sit around and twiddle our thumbs and pick each other's toes.
I'll take pictures.
See you all soon and thanks for stopping by!