I don't make sauce, I buy it. BBQ, spaghetti, chocolate, teriyaki and soy. All store bought.

But these girls: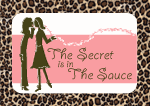 They make Sauce.

Go check them out. Then have a little fun with us.

There is a contest there and one of the prizes is a blog design from Eight Crazy Designs. She is amazing and quite likely on the verge of becoming famous!

Join in the fun!