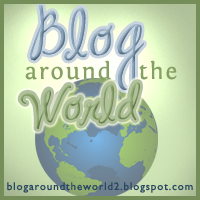 Hello to all who have made it here by way of Blog Around the World.
Isn't this fun?
I have had a great time visiting the states as Miss Debbie, the genius, features them and now it's my turn!
So welcome, come on in, take a look around, sit for a spell and enjoy because
it's my crazy life......... and I LOVE it


It's just about back to school time here. Our school district heads back to class the Wednesday after Labor Day. We don't know who Ben's teacher will be yet. That top secret info is not released until the "Back to School, PTA Sponsored, Ice Cream Social" (seriously, that's what it is called) on Tuesday the 2nd.
I'm not sure why they call it an "Ice Cream Social". It should be called the "Suck your Bank Account Dry Social" or the "Super Secret Teacher List Launch Social" or the "Preview of Every Ones Ultra Cool New School Clothes Social".
I mean really, here's how it goes: You walk in the front doors of the school, flanked by your darling little student all decked out in their new jeans, layered shirts, hoodie and tennis shoes even though it is 85 degrees out, only to be greeted by tables upon tables of lovely PTA volunteers waiting with open hand to accept your checks. You deposit money into your child's hot lunch account, then you pay your PTA membership fees, kindergarten snack fees, art enrichment fees, fundraiser fees, PE fees, library fees, band-aid usage fees, and the all important, but slowly fading away as more elementary students come equipped with their own cell phone, phone usage fee(for when your child needs to call home because his hot lunch account has been drained dry and he forgot to tell you).
After you've been bled of your very last check you then make your way to "THE WALL OF CLASS LISTS". Yeah baby, this is where life begins or ends for most students. Did they or didn't they get the IT teacher? As we all know, there is only one IT teacher allowed for each grade level. You know the IT teacher, the one that everyone wants, but no one can actually request since our district does not allow teacher requests, but somehow certain, more influential families are able to get for each of their kids? The IT teacher is warm and fuzzy, super organized, and able to leap tall buildings in a single bound all the while keeping 26 students engaged and interested in learning throughout the whole year. The other teachers? Well they must just biding their time until their retirement number comes up or something. So you push your way through the throng of parents and students (some weeping uncontrollably, others rejoicing as if the heavens were raining money) to THE LISTS. You're scanning, you're scanning, you're scanning until there it is............your students name..........nope, not under the "IT" teacher. Oh well, they'll live. Besides my kid is going to speed up the retirement process so that we can get a new IT teacher in here next year anyhow.
Then it's off to meet the teacher and see the classroom. You stand in the line to greet the teacher, who on first glance, doesn't look that unorganized or close to retirement age at all. When it is finally your turn, you shake hands and introduce your child, who is putting on quite the shy act beside you. The teacher sends your kid to pick out their desk and write their name card while you chat it up a bit, both trying to get an impression of what the year is going to hold. Meanwhile your student has picked out his desk, based on the names on the desks next to it, hoping that Katy is the cute Katy, not the Katy that picks her nose and eats it.
Finally you're done, and headed towards the door, when your child reminds you that there is ice cream still. That's why it's called the Back to School, PTA Sponsored, Ice Cream Social. And since the PTA does provide those little dixie cups of ice cream with the wooden spoons they can call it whatever they want.